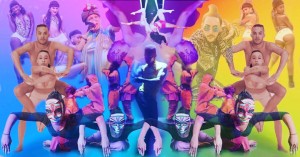 OUR WATER: Movement Showcase is a high energy, expressive experience rooted in the colorful culture of DANCE. With some of the communities most powerful movement creators, at the most epic venue in Brooklyn, there will be no choice but to dive deep into the refreshing and exhilarating waters of creation.
Pendulum People have teamed up to bring you some of the most innovative and soulful movement creators in NYC. Through various imaginative performance offerings, these artists unite to bring attention and awareness to threatened water sources worldwide. OUR WATER: Movement Showcase will be an evening of inspiration, togetherness and revolution celebrating the expressive power of dance. As living, breathing, MOVING beings, we must fulfill our connection to the elemental flow and use this outlet to ignite growth. So come be a part of this diverse experience and help send out positive manifestations of environmental progress.
A portion of proceeds from this event will be donated to the Sacred Stone Legal Defense Fund at Standing Rock. The Camp of the Sacred Stones is a spiritual and cultural camp on the Standing Rock Reservation resisting the Dakota Access oil pipeline through non-violent direct action. THANK YOU to these warriors protecting land, water, and human rights.
Some of the ridiculous Creatives/ Performers involved:
House of YES – http://houseofyes.org/
Justin Conte – www.JustinConteCreation.com
Banji Twerk Team – https://youtu.be/JKAqSM0_fvg
Kalamandir Dance Collective – http://www.kalamandirdanceco.com/ / www.BrindaGuha.com
BANKS ARTISTE – https://www.facebook.com/BanksArtiste
Omari and Shea Mizrahi – https://www.facebook.com/OusmaneWilesDance/
Sun Kim – www.sunkimdance.com
Kaner Flex and Mela Murder – https://www.youtube.com/watch?v=L9ooO0kI0GM
SPECIAL GUESTS: Deva Mahal and Michael Mcfadden share their powerful music duo: SKYLINES
https://www.facebook.com/Skylines-298302347046428/
PLUS a special closing performance by:
Nova Zef and Pendulum People –
https://m.facebook.com/PendulumPeople/
www.PendulumPeople.com
Creative Director/ Curator:
Justin Conte – www.JustinConteCreation.com
Movement Director/ Curator:
Soraya Lundy – www.SorayaLundy.com
Art/ Design Director:
LVDF – www.LVDFdesign.com
*Discounted pre-sale Tickets available above – OR – $30 tickets at the door day of event.
Doors at 7pm | Show at 8pm
21+